Metal Detector Reviews
Metal detecting is an enjoyable as well as a rewarding hobby. From discovering old coins buried in your yard to prospecting for lost treasures along the beach. The thrill of the hunt can be addictive.
Knowing what metal detector to purchase will depend on your budget as well as the area in which you live. Different metal detectors are built for certain situations and treasures.
By checking out metal detector reviews you will be able to figure out the best metal detector for you.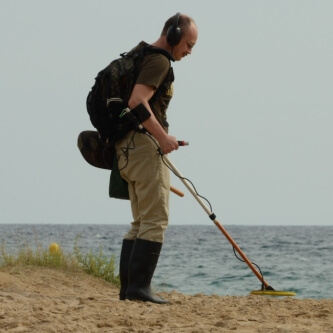 If you're new to metal detecting find the best beginner metal detector reviews here. they all need to be the same amount of words roughly so the rows line up. this long is good.
Some Metal Detector Considerations
If you are a beginner or are interested in purchasing a metal detector for a child you may want to look at more economical options before you make a large investment. Don't purchase a detector just because it is cheap. Always check the metal detector's reviews to make sure it's exactly what you are looking for. Take into consideration:
Where will you be using it?
Do you plan on going to the beach, underwater or just to a local park? Knowing where you will be hunting will be a major factor in your purchase.
Depending on your budget you can buy a detector that is more economical, or you can purchase one that costs more which will allow you to have more features. Price ranges vary greatly so know ahead of time how much you are willing to invest.
How often you will be using it?
If you don't plan on using your new metal detector very often, you probably aren't willing to spend much upfront. Just know that a lot of people that take up metal detecting as a hobby find it addictive. In turn, they end up purchasing a more rugged machine that can take more wear and is more sensitive.
If you plan on sharing your equipment with someone else, it is important to know if they are going to be taking it to the same areas as you and if they are going to be careful with it.
Are you planning on using a metal detector to get outside and get a little exercise, or are you looking to find some real treasure? Old relics, gold and coins are still out there waiting to be found, and people are finding them every day.
Are you ready to get started in the rewarding hobby of metal detecting? If so, the best place to start is by checking out our metal detector reviews.
https://www.metaldetector.com/learn/buying-guide-articles/getting-started/how-to-select-a-metal-detector
https://www.smarterhobby.com/metal-detecting/
https://www.kellycodetectors.com/catalog/library/five-questions